An organic winery cultivating bush vines on ancient terraces to express the greatness of Sanguis Jovis, the blood of Jupiter:
Sangiovese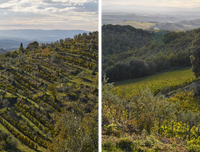 Alberello bush vines on over six kilometers of historic terraces shape the landscape of Castagnoli
For more than fifty years the land in Castagnoli is cared for following strict biological principles, which expresses itself in the biodiversity in the vineyards and complexity in our wines. Castagnoli's soil is treated as a living organism, keeping its immune system intact. Our philosophy aims to express the purity of Castagnoli's terroir in our wines.
Land & People
Contact us to arrange your visit to the winery
Get in touch to book a wine tasting, tour of the cellar or stay in one of three apartments on the estate Experience our approach to wine-making and feel the land of Castagnoli.
Visit & Stay